I don't know about you guys, but shopping for my parents is always the toughest of all the Christmas shopping. They already have so much and really, they're at a point in their lives where if they want it, they buy it. So the challenge is finding things they don't know they need/want or things they're probably not going to buy for themselves. That aren't gift cards. That they're actually going to use and that I'm not going to find stashed away in a box the next time I go to visit (that totally hasn't happened). So. I've put together a list of things my parents would like (I think) and that yours might, too (maybe.) Oh, and the bonus? They're all under $100!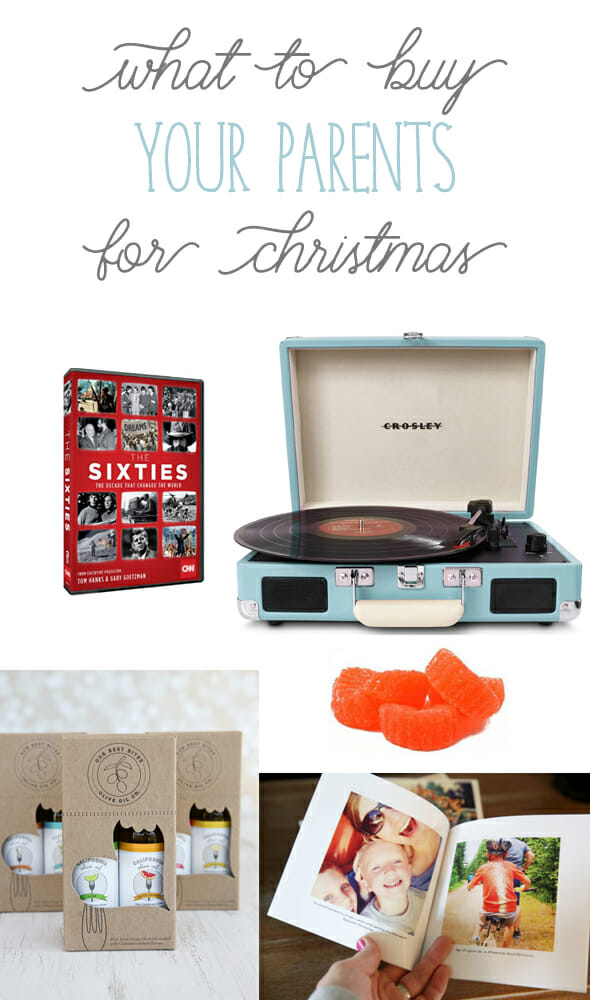 The Sixties. I shared this on Facebook a little while back, but in case you didn't see it, I caught this documentary when it aired back in the summer of 2014 and loved it. In fact, I didn't delete it from my DVR until I was able to find it on DVD. Even my kids (well, the 10-year-old and the 8-year-old) would walk in and find themselves completely enthralled. It was produced by Tom Hanks and his production company, so if you're a lover of all things Tom Hanks, this is another feather in his charming, friendly cap. My parents love documentaries and they love Tom Hanks, so I snagged this for them back when I first found it in October. The price ranges from $30-$40, but as of when I'm publishing this post, it's a little over $30.
Crosley Record Player. If you follow me on Instagram, you might have seen that my friend gave me a little portable record player as well as my favorite album in the universe (Babel by Mumford and Sons) and A Very She & Him Christmas. The record player is great because a) it isn't super expensive, b) doesn't take up very much space, and c) would let your parents play their records that they might still be holding onto. And if they're not holding onto any records anymore, maybe you could snag one or two of their favorites from back in the day (although I will say that I was pleasantly surprised by how much I loved the Christmas album on vinyl…the retro feel of the album was perfectly suited for a record player.)
Their favorite candy. Orange Slices and Swedish Fish have been longtime staples of gifts for my dad. No matter how many he gets, even if every single one of his children gets them for him, we know they're going to get eaten. Try visiting a local shop that specializes in old-fashioned candy (if you're in Provo, Utah, Blickenstaff's is fantastic) or, if you don't have one local, try an online shop like Old Time Candy or Candy Warehouse.
Our Best Bites Loot. If they're foodies, we have to give a shameless plug for our books. A lot of parents love our 400 Calories or Less with Our Best Bites because they're trying to eat a little healthier, or snag something from our shop–our artisan olive oils and balsamic vinegars make perfect gifts, especially if you add a whisk or tote bag (bonus: they're on sale!).
Photo Book. There's not a grandparent in the world who wouldn't love a book full of memories. Well. There might be, but they're few and far between. Awhile back, Sara did a post about Chat Books, and, if you have an Instagram account, they make such an easy and affordable gift! And if you use the code BESTBITES through Sunday, December 13, you can get 20% off!
Hopefully that gives you a few gift ideas for the most difficult people on your Christmas list! If you're looking for some of our other ideas for gifts, here are some lists from the past:
10 Kitchen Tools Chefs Love
Book Series Late-Elementary Boys Love
Book Series Early Elementary Girls Love
Manly Stocking Stuffers
Gift Guide for Foodies
Girly Stocking Stuffers