The year after I got married (almost 14 years ago! Yiiikes…), I lost quite a bit of weight. Sidenote: it was significantly easier then than it is now, haha. Anyway, as I was on that particular journey, the one thing I wished for was to know (or at least have some kind of educated guesstimate) how many calories I was burning, both in workouts and in my day-to-day activities. But stuff like that just didn't exist then (way back then), at least not to the general public.
Well, these days, fitness trackers are everywhere, from big companies like Nike and Garmin to small (although ever-growing) companies like Fitbit.
I haven't tried all the fitness trackers, but I've tried a few different types of trackers. Right now, both Sara and I have the Fitbit Flex and we love it. But first, I want to talk about the other ones I've tried to give you guys kind of an idea of why I wound up sticking with the Flex.
The first fitness tracker I tried was the BodyBugg. It's been on the market longer than most of the other fitness trackers and kind of had the corner on the market for a long time (I also discovered it has recently been acquired by Jawbone, so I'm not sure what that means for the future of the Bugg.) I used it for awhile and there was a lot to like, like all-encompassing fitness tracking–it tracked your daily activities as well as workouts with pretty accurate measurements (this is one of the shortcomings of many of the other fitness trackers.) It also automatically tracks and monitors your sleep, whereas with some of the other trackers, you have to tell it when you're going to sleep.  Sara used a BodyBugg for several years, with great success.
That said, there were things I didn't like about it. First of all, it looks like a medical device. I can't even count the times I caught people staring or asking me straight-out if I was okay and why I was wearing this big, scary thing on my arm. It's not waterproof, so you can't wear it to track swimming. The interface was not user-friendly. I also hated the nutrition tracker, which is common with the trackers, but it didn't sync well with MyFitnessPal (which is how the other trackers redeem their struggles). It also is one of the more expensive trackers just to purchase, then there's also a mandatory $6.95/month subscription fee; you have to pay to use it (and who wants to pay seven bucks a month for an unfriendly interface?) After awhile, everything just kind of piled up and I decided to go another direction.
The Polar Heart Rate Monitor is a great choice if you want to just track workouts. Devices like the Fitbit Flex kind of piece together that you're probably working out, but unless I'm running or walking, I usually have to go in and adjust my workout afterwards because it's just guesstimating. But the Polar actually tracks your heart rate (by a band you wear around your chest whilst working out), so it has a good idea of how hard your body is working. That said, it is not designed to track your overall activity levels or footsteps. So if you need to keep your heart rate in a certain zone (I loved that when I was pregnant!) or if you really want to track just your workouts, this is a great choice. But if you want to track overall activity and steps throughout the day, you'll want to use something else (or this in conjunction with something else.)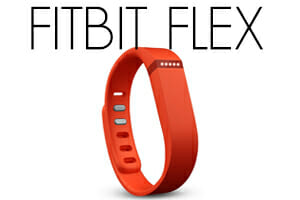 I wrote about the Flex a little in this post. Ultimately, this is what I've been the most happy with and I've used for about a year. It doesn't have the intense, in-depth tracking of some of the other devices, and I have been jonesing for a little more information for awhile now (which is why I'm still eyeballing the Fitbit Charge HR–it seems to be a lot of things I like about the BodyBugg and the Polar, like the heart rate/activity monitoring, it being a watch, and automatic sleep tracking, minus the things I don't like. I'm kind of waiting to see what the users have to say about it before I take the plunge.) I love that you can have Fitbit friends (and they don't even have to have a Fitbit, but it helps) and you can challenge each other, which can be really fun and hugely motivating. In fact…if you want to be Fitbit friends, go to your dashboard and invite us by email! The email address I'm using is [email protected] and Sara's is [email protected]. We're toying with the idea of doing spontaneous challenges to keep you guys AND ourselves motivated!
All of this said, the longer I've used the Flex, and fitness tracking in general, I've come to a few realizations about what fitness trackers are and what they're not.
When it comes to nutrition and exercise, there are so many variables that it is impossible to track things with 100% accuracy. Unless you're hooked up to a machine every second of the day and have a lab to test every single thing you put into your mouth, everything is an estimation. Sometimes meat is fattier than other times. I can tell you that having worked in restaurants, there's some ad-libbing going on in the kitchen and that nutritional information is an estimate under very controlled, un-restaurant-like circumstances. Some workouts are more intense than others. Sometimes your fitness tracker will (or won't!) track things it wasn't (or was!) supposed to.
I got really caught up in trying to balance everything perfectly, making sure my calorie input was matching up as perfect as possible with the output. Not only did I go to kind of a weird, obsessive place psychologically, but guess what? It didn't work. I gained, or, at the very least, stalled my weight loss.
That's a good question. One I've asked myself, and one my husband has asked me when he sees me sporting a new device.
First, kind of like tracking everything you eat (even if you're not eating perfectly), it gives you an idea of what your activity looks like. You start to recognize patterns (my weekends can be a little, um, sedentary) and that gives you kind of a subconscious motivation to get up and move.
I've found that unless I am burning an insanely huge amount of calories, I shouldn't really venture much over the 1400 calories a day mark if I expect to lose weight. Even if my fitness tracker tells me I can eat them. If, at the end of the week, I have an enormous deficit, then it's cinnamon roll time. Otherwise, it's mostly there to keep me accountable to myself and my goals and as a reward for my hard work (all green lines! Yes!)
The other reason why I find fitness trackers super helpful is that they keep me motivated to move. If that afternoon nap is calling my name, but I've hit my step goal every other day that week, then I'll run out to the backyard and play with my big dog instead of snoozing. If I've spent a lot of time at my desk working, I can see that maybe we should go for a walk as a family after dinner. And if I'm almost to my daily goals, it pushes me to do just a little bit more. Because all those little things add up to big results.
Like I said, I haven't tried all of the fitness trackers on the market; the big brands that I haven't ever used are Garmin (ranging from simple trackers to much more thorough monitors), Jawbone, and Nike. And all of these companies (as well as Fitbit and Polar) have monitors I haven't mentioned just because this post would then be 10 million words long and I have no experience with any of them. So. If you have tried them and want to share your experience, please do! Hopefully between all of us, we can help other people research out what would work best for them!