With lots of people making New Years Resolutions to get more organized, I thought I'd share some of my favorite things!
When I got my first iPhone a few years ago, I was super excited to use some organizational apps and sync my calendars so all of my daily events would be at my fingertips.  And do you know what happened?  I missed important stuff ALL THE TIME.  Turns out I hate electronic calendars.  I decided to take the old-school route and try an actual pen and paper method and it changed my life.  I fell in love with Discbound planners.  I have this one from the Martha Stewart Line at Staples,
however it's been super hard to find in the last year.  I think it might be phasing out.  Staples has their own line of discbound products, called "Arc" so you can look for those, too.  If you've never used a discbound notebook, it's bound by those small disks and all of the paper and accessories are shaped so they just snap in (there's a video in that Staples link.)  There's no opening of binder rings, and everything is movable and customizable.  There's different sizes; I use one that's 8″x6″ and fits perfectly in my purse.  I keep my whole life in a notebook like this.  I have those cute dividers and I have sections for my work, my church stuff, my recipe notes, Fit Club, etc.  a pocket for papers and coupons or whatever, post-it note inserts and to-do list pads, there's tons of things you can snap in there.  You can also get a hole-punch to punch anything to put in it.  I didn't want the big heavy-duty one, so I got this little one and it's been perfect.  A lot of great designers make planner-inserts for them as well, like this cute one from I Heart Organizing that comes with calendars, planning sheets, and all kinds of stuff.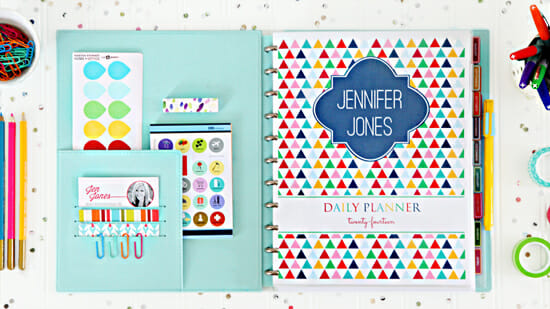 If you follow me on Instagram, you know how excited I get about labeling things.  I love this little Brother P-Touch (just noticed it's on sale in that link!)  It's super easy to use and the labels pop right out instantly, which is so much easier than formatting labels on a computer and printing them out on a sheet, or hand-writing labels.  The label tape comes in fun colors like pink, blue, bright green, and yellow.  (Because if there's anything I love more than labeling, it's color coordinated labeling.) I use this for labeling storage bins, shelves, electronic cords, containers in the pantry, kids books and electronics, you name it- I label it.  At only about $40 ($29 right now on Amazon!), this is a great little investment to get organized.
I am a chronic list-maker.  It's a trait I inherited from my mother.  I can still remember the weekly to-do lists she would make for me on Saturday mornings to list my chores and she would draw a little icon next to each thing, like a little shirt to signify I needed to put away my clothes.  I have so many things to do, in so many areas of my life, that I just can't survive without a good list.  There are a million free organizational printables on the internet, but I've been using these ones from 30 Handmade Days forever.  Mique makes awesome printables.  Usually at night, when I'm contemplating all of the things I didn't accomplish that day, I start a list for the next day.   If you visit this link, and look for the picture below, right below it there is a link to a "generic version" and that's the one I use.  It looks like this one, only it's completely blank.  I like that because I can separate it into categories like Work, Household, Errands, Church, etc.  and then during the day I try to rotate through and cross off at least a couple of things from each category.  Totally works for me.
With my love of list-writing,  it should come as no surprise that I'm super picky about pens.  These are my favorite pens in the whole entire world.  They don't bleed though paper, they come in fun colors, and they are perfectly smooth and wonderful.  I use them for every day writing, but also for things like hand-lettering, and journaling in my Project Life albums.  I promise you; they're perfect.
My love for lamination is no secret either.  Amazon's #1 Seller is still on a great discount from Christmas time and it's an awesome one.  I use mine a lot for things for my kids, charts we want to keep and display, visual aids for the work I do in my church's children's organization, etc.  Once you have a laminator, you'll suddenly want to laminate everything.  And then probably put a label on it, too.
At the risk of sounding like an infomercial, I'm including this one as well.  I'm sure many of you, like me, made financial goals at the start of the new year.  If you listen to AM talk radio, you are definitely familiar with financial guru and radio host Dave Ramsey.  My husband and I have been fans for years and often listen to him while we're driving around town.  He has lots of popular books, and a whole system called "Financial Peace University".  Dave Ramsey's goal in life is to teach people how to effectively manage (and grow) their money and most importantly, be free from debt.  My husband and I are very different when it comes to finances.  He is meticulously involved, brilliantly motivated and knowledgeable, and highly organized.  And I am what Dave Ramsey refers to as a "free spirit."  The two of us budgeting together is always a little challenging because we have very different styles!  At the start of the year though, we made some financial goals (and one of mine was to be more involved) and I can say for the first time in my life I am actually interested in finances and motivated to budget and save and become more financially organized (like my husband, haha).  That in itself is saying a lot, and I attributed it all to Dave!  It's not a scheme or a ploy, it's genuine life-advice and we've seen the benefits already.
So- what's on your list??  Any favorite things that help you stay organized?