Valentine's Day is going to be here before we know it, so I'm taking a little break from all the healthy habits today to talk V-Day.
From the time I was in elementary school, I've kind of loved Valentine's Day. Back then, there was always the Valentine's card swap and then at my school, we had a Valentine's Tea, where all the girls permed their hair and wore their finest Jessica McClintock large-collared dresses and the boys dressed up in collared shirts and ties and we had punch and cookies in the library and most of the girls lovedlovedloved it and now that I have an 11-year-old boy, I'm pretty sure most of the boys really dreaded Valentine's Day.
Then I got to middle school and there was all the exhilaration/devastation of the secret sucker distribution–you know, where you pay a dollar to the Spanish club and write cryptic messages to your secret crush and then the Spanish club delivered the cryptic message and a heart-shaped sucker to said secret crush. The day usually ended in "Everybody Hurts" by R.E.M. or "The Power of Love" by Celine Dion. Or both. Because emotions.
Then I got to high school and, for the most part, I was beyond the whole "Everybody Hurts" phase of life (it was more of a "My Heart Will Go On" phase…apparently Celine really spoke to me back in the day.) Gone were the days of Peanuts Valentine cards and conversation hearts–it was more of a let's-go-on-all-the-elaborate-group-dates time in my life.
College led to Valentine's Days hanging out with roommates, and then I got married and things were cute and romantic for awhile, and then we had kids now I just hope my husband doesn't blow money on Valentine's Day-priced flowers and I'm just glad to have Chinese food and Netflix at home after the kids were in bed.
But now I find myself missing swapping Valentines with my friends. So if you find yourself, say, longing for a Galentine's Day with your girlfriends, today is for you.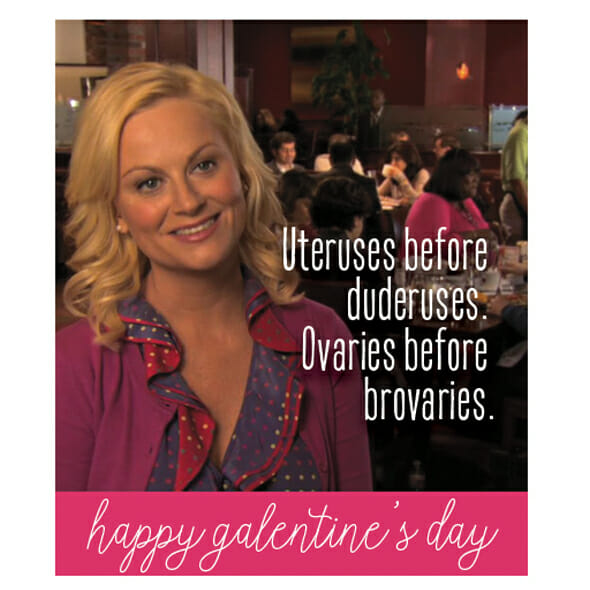 That's right. I have all your Parks and Recreation-themed Valentines right here.
Turns out I'm highly motivated to exercise and fold laundry if I can watch TV while doing so. Right now, I've been re-watching Parks and Recreation while I sweat it out at the gym and my only regret is that I'm not sitting there with a pen and paper, writing down all the best lines. But I have collected a few of my favorites that I would love to give (and receive) as valentines. Tied onto cookies (or on a take-out container of waffles from JJ's Diner.) Attached to a package of peanut butter cups (or a can of whipped cream). For your Chris Traeger-loving friend, you could give them a bag of kale chips with this…
Or for your long-distance friend/sister/lover, there's always the wisdom of Andy Dwyer.
Is your significant other not a big talker? Ron Swanson to the rescue.
Trying to land that prize you've had your eye on for awhile? Donna would want you to treat yo' self.
And really, this just sums up my relationship with those I love the most. April, you beautiful, talented, brilliant, powerful musk-ox…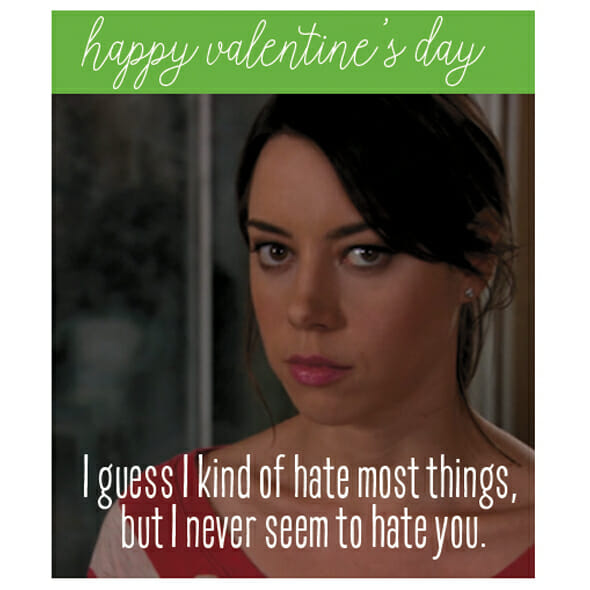 I've put all of them together in a printable PDF–just print them out, cut the ones you want to use, and attach them to your Valentine's/Galentine's favorite candy, snack, or coupon for a couple's massage. Get the printable here!