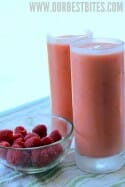 So if you're not following us on Facebook (or even if you are), I'm kind of in the middle of remodeling my kitchen. And when I say "I," I mean a very nice man and his crew of workers are remodeling my kitchen; I'm 100% sure if I were actually doing the work, it would never get done. I was really pushing him to start today so I could have a week to get posts and freezer meals ready before I had to wash dishes in my bathtub, but he was ready to go last Wednesday. It was definitely kind of a simultaneous "YAY!" and "Oh, crap!" moment. Wanna take a little peek at what's gone on so far?
This is no more:
Adios, washer and dryer in the kitchen!
I'm not sure what decade it was when these cabinets went in, but this gingerbread house-y decorative…something…is now gone.
We're pretty much changing the whole layout of the kitchen–our stove won't look out onto the dining room anymore. Also, that stove is currently sitting in my garage, looking for a happy new home so we don't have to send it to the Happy Stove Farm in the Sky (actually, it would probably go to the Habitat for Humanity Re-Store, but my kids think the idea of a place where all the old stoves have lots of open land to run around is funny).
So far, the only rooms in our house not directly impacted by construction are the master bedroom, our bathroom, and the living room. This is a peek of what a good chunk of my house currently looks like:
We discovered all sorts of layers of awesomeness under the walls…
and the floors…
Maybe if y'all are lucky, I'll take a picture of my office–it looks like Fred Sanford moved in. I'm kind of scared I might get the people from Hoarders called on me.
I'm so grateful to be getting a new kitchen, don't get me wrong…but it is August and it is hot and I still have one little person whose preschool hasn't started yet. Add in the fact that we got everything from Ikea, which is a 4 1/2 hour drive away, and it looks like I'll be going back sometime in the next few days and I have a persistent, dull headache and a lot of sleepless nights. And for me, if soup is comfort food for the winter, smoothies are comfort food for the summer. I could subsist exclusively on smoothies in the summer. It's a sickness.
Since I don't have a lot of cooking tools at my disposal right now (just ask the girl at Popeye's who looked at me like I was crazy when I asked for a container of rice the other night), my culinary adventures are fairly limited right now, but I did make a conscious effort to not pack up my blender. Add in the carton of giant, freshly picked raspberries I have sitting in my fridge, and I'm in business. Kind of. I made these smoothies on my bedroom floor.
For this smoothie, you'll need Orange Mango Peach juice (or another kind of tropical-ish juice), mangoes (or peaches if you're not keen on mangoes), raspberries, and pineapple sherbet. If you're using all frozen fruit, you won't need any additional ice, but if you're using fresh fruit, you'll need about 1 cup of ice per fresh fruit (so if you're using fresh mangoes and fresh raspberries, use 2 cups of ice).
Place all the ingredients in your blender…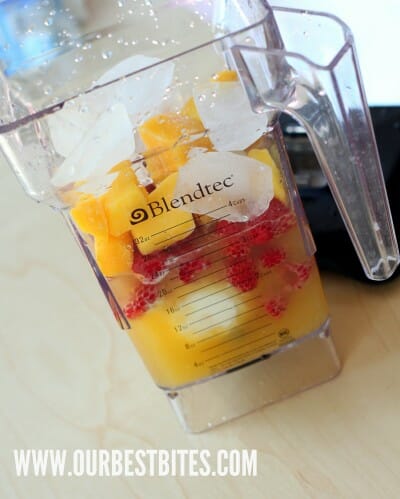 and blend the mixture until it's nice and smooth. Wonder if your headache will ever go away. Drink a Diet Coke and take some ibuprofen. Have another smoothie. Welcome yourself to my life.
Raspberry-Mango Smoothie
Recipe by Our Best Bites
Ingredients:
1 1/2 cups Orange Mango Peach juice
1 cup cubed mangoes (or peaches)
1 cup raspberries
1 1/2 cups (about 3 large scoops) pineapple sherbet
2 cups ice (omit 1 cup ice per frozen fruit used)
Instructions:
Add all ingredients to your blender in the order listed and blend until smooth. Drink immediately. Makes 2 large smoothies or 4 smaller smoothies.