With the convenience of online shopping, I feel like there's a fine art slipping through the cracks of society: the art of the care package.  When my Mom was in good health, she was the best package-sender.  She always had little knick-knacks and favorite things and when she found something she knew someone else would like, she slipped it into a box and sent it off in the mail.  When I was in college, and then living in Brazil for a couple of years, boxes would randomly appear on my doorstep filled with things like Girl Scout cookies, Costco-size containers of Goldfish Crackers, little sticky notes with funny quotes on them, cute flip flops and yummy lip gloss.  It reminded me of when I was a kid and my Grandma Norma (my mother's mother- you can see this trait is hereditary) would send a package every time any of us had a birthday- but the best part was that she never just sent presents to the birthday kid, she sent something for each of us, carefully wrapped up with a little ribbon and sweet note.  I still love sending (and receiving!) packages.  There's something fun about opening up a carefully packed box that someone else has filled with goodies just for you.  So since we're all friends here, Kate and I thought it would be fun to send one of YOU a fun package!
I went shopping the other day and picked out some things to go along with the fun Retro themed week we've been  having.  My first pick was this gorgeous Abigail Buffalo Plaid Apron from Williams-Sonoma.  It's the perfect shade of 60's powder blue, and a classy spin on retro style.
The linen fabric is gorgeous, and the details divine.  I kind of want to wear it as some sort of dress.
Since I was the one shopping, everything is matching in my favorite color.
And I'm throwing in a few extra things, too.
First off, a signed copy of our Nationally Bestselling book, "Savoring the Seasons with Our Best Bites!"  If you already have one, now you  have one for a friend.  Go make someone's day.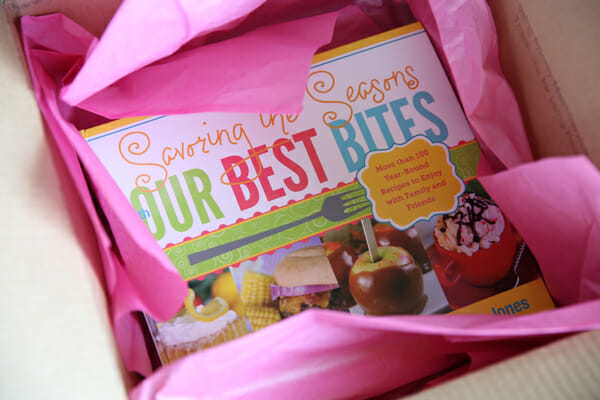 I'm also throwing in a Roku.  In my post on Monday (the yummy Creamy Chicken Noodle Casserole) I told you all about that show Granite Flats, and  you can watch it on this, along with a gazillion other things. If you don't know what a Roku is, it's awesome, and you for sure want one.  You can read about them here.
Back to my shopping trip.  I am one of those people who buys products purely based on cute packaging, so this cupcake mix and frosting practically begged me to put them in my bag!  Forget the grocery store aisle cake mix and canned frosting.  This mix uses custom-milled organic flour sourced from small family farms.  See what I  mean?  Fancy.  And the frosting…delicately sweetened with pure cane sugar, and filled with all-natural ingredients like Madagascar Bourbon vanilla, it's free of hydrogenated oils, just pure yumminess.  The lady at the store told me a trick, too.  She said to put that frosting in your mixer and beat it up to make it super fluffy and you get twice as much!
Next in goes a fluffy oven mit, and a few of my most favorite little kitchen tools.
 These mini spatulas are seriously one of the most used utensils in my kitchen, they're the perfect size for so many things, and you also need a cute offset spatula to be frosting those cupcakes!
Now, I'm a little OCD when it comes to packing boxes and I like everything to fit like a perfect game of Tetris.  There's on little open spot there and it's driving me crazy.
Nevermind, fixed it.
There you have it, a box full of love from Sara and Kate, to one of YOU!  This box is taped up and sitting on my kitchen table and it just needs a name and address on it.

I'd love to send it to one of you wonderful readers!  If you are a regular reader of this blog, you know we aren't huge fans of complicated giveaways.  We genuinely like giveaways for the sake of making someone's day and sharing things we love, so we try to avoid requiring you all to jump through hoops to enter!  We just want to let you all know how much we love you and how grateful we are that you visit our site often.  It's because of you that we have such fun jobs.  To enter to win our care package, just leave a comment on this post!  I'll use a random number generator in one week to choose a lucky winner and pop it in the mail.  Happy Friday!
 (iOS APP Users:  This giveaway is currently closed.)